Manufacturing of fire protection powder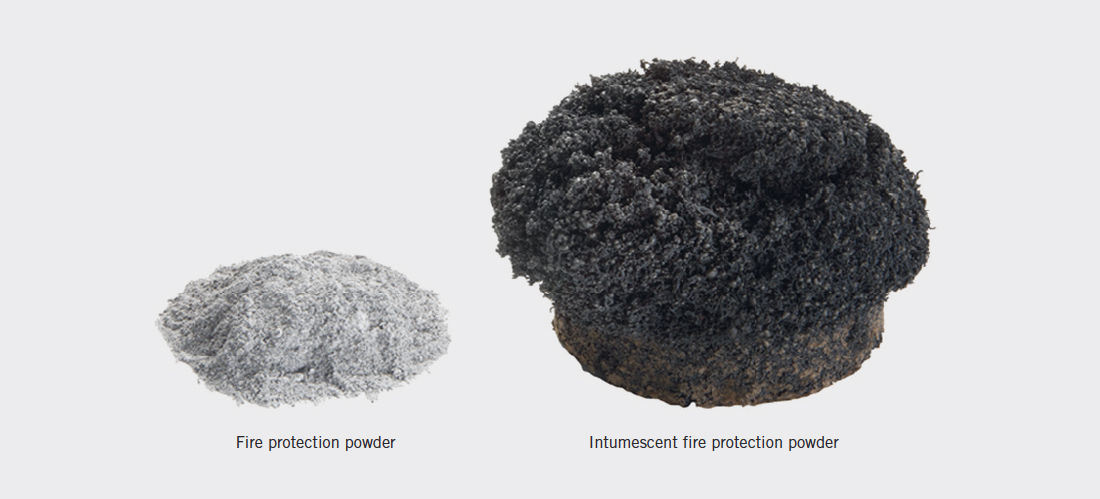 For several years ZAPP-ZIMMERMANN has been manufacturing fire protection powder to upgrade the intumescent property.

The fire protection powder can be used in virtually any building material, and can be worked into the building material as part of the manufacturing process. Depending on the application and the building material, the intumescent fire protection powder can be individually adapted to achieve the desired fire resistance behaviour of the building material in the event of fire.
Foaming behaviour of three intumescent fire protection powder variants
ZAPP-ZIMMERMANN uses custom-developed fire protection powders for enhancing materials, such as polyurethane, acrylic, silicone, and butyl rubber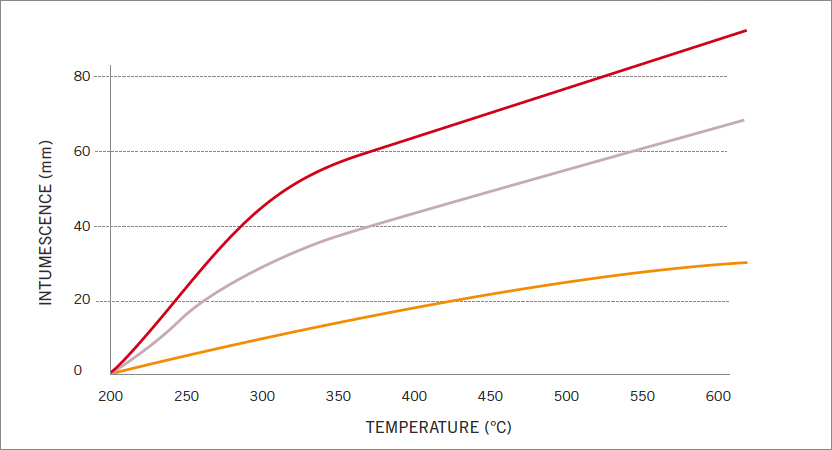 Material: Polyurethane
Polyurethanes are particularly versatile plastics that can be foamed or cast in a wide variety of moulds. Polyurethanes are encountered in all areas of daily life, (mattresses, sponges, clothing, paints, adhesives, etc.). Polyurethane products can be manufactured in various gradations, from soft and elastic, to hard, as well as with different densities. In addition to these day-to-day applications, ZAPP-ZIMMERMANN uses polyurethanes in the area of fire protection. For many years ZAPP-ZIMMERMANN has been manufacturing most of the standard products, as well as a number of special components, of PU foams.

Properties: A wide variety of geometries and shapes can be cast or foamed.
Casting compounds: rubber-like to hard, medium density to high density, 500 – 1300 g/dm³
Foams: soft to hard, low to medium density, 200 – 400 g/dm³
Examples: In addition to the standard products for cable and pipe penetration seals, ZAPP-ZIMMERMANN produces a wide range of polyurethane moulded parts with fire protection properties: Air transfer grilles, sealing rings, sealing strips, mats, and many other items.
Material: acrylic
Acrylics are elastic plastics, which in the construction area are primarily used for the sealing of joints and stress cracking. In addition, acrylic is used for paints and lacquers, as well as adhesives.

Properties: Unlike silicone, acrylic is odourless. In addition, after hardening, acrylic can be coated over and can be built up in multiple layers.

Examples: ZZ-Mastic NE is an acrylic-based joint sealing compound that is used for sealing of joints and small openings in ZZ through penetration firestop systems, or also individually for small through penetration seals.
Material: silicone, silicone foam
Silicone is an elastomer with versatile implementation possibilities; in the construction industry it is primarily used as a sealant, casting compound or coating material.

Properties: As an elastomer, silicone is extremely ductile and is capable of strong elastic deformation. Consequently, it is primarily used in areas where it accommodates elongation or deformation and then must return to its original shape. In addition, it is highly resistant to weathering; thus it is often used in outdoor areas or wet-duty areas, e.g. for joints in bathrooms.

Examples: ZZ-Fire protection silicone NE offers these advantages of an elastic joint sealant, and in the event of fire simultaneously forms an extremely stable, hard carbon layer for fire resistance up to EI 180. ZZ-Fire protection silicone NE, satisfies the requirements specified in the EN ISO 11600 standard for building construction joints, and in other standards.
Material: Butyl rubber
Butyl rubber is a polymer with plastic properties. Among other applications it is used in tapes, sealing compounds and adhesives.

Properties: Butyl rubber is plastic, kneadable and mouldable, and in this regard self-adhesive, so that it can be very effectively shaped. Moreover, excellent resistance to ageing and weathering and compatibility with most building materials are additional advantages of this material.

Examples: ZAPP-ZIMMERMANN primarily uses butyl rubber for ZZ-Wrap NE.